2023 Marine Corps Birthday Ball
San Diego Council celebrated the 2023 Marine Corps Birthday Ball with the Marine Corps; 3rd Low Altitude Air Defense Battalion, 12th Marine Corps District, 3rd Marine Air Wing and Marine Aviation Logistics Squadron 11 during the month of November.  These special events were held at various locations; U.S. Grant Hotel San Diego, Town & Country San Diego, San Diego Bayfront Hotel and Caesars Palace Casino in Las Vegas, Nevada.  All events had Marines and many guests in attendance celebrating 248 years of excellence that included; music, dinner and the traditional cake cutting ceremony.  Special thank you to SSgt Patrick Hasick, SSgt Daniel Ramirez, SgtMaj Jerry Tolbert, 1stSgt Cody Bigham, SgtMaj Ricky Broadway,  SgtMaj Luis Ortega, SgtMaj Daniel Wilson, Mrs. Melissa Johnson and SgtMaj Rosalia Scifo in allowing our San Diego Council to participate and support.  Well done to council members representing and attending; SHC Jay Rinder, USN(Ret), GySgt Ira Heid, USMC(Ret) and CMDCM Marty Magana, USN(Ret).
2023 MCAS Miramar Birthday Celebration
On November 9, 2023, Vice President; Tracy Owens, Homecoming Chairman Jay Rindler and Sea Service Committee Member; Charles Clark joined 3rd Marine Air Wing; Brigadier General Robert B. Bodie and Marine Corps Air Station Miramar Commanding Officer; Colonel Thomas M. Bedell to celebrate the United States Marine Corps 248th Birthday at the Bob Hope Theater at MCAS Miramar Base.  During this event Marines covered its heritage, modeled its uniforms from its initial establishment to current and held a cake cutting ceremony.
2023 Fleet Week San Diego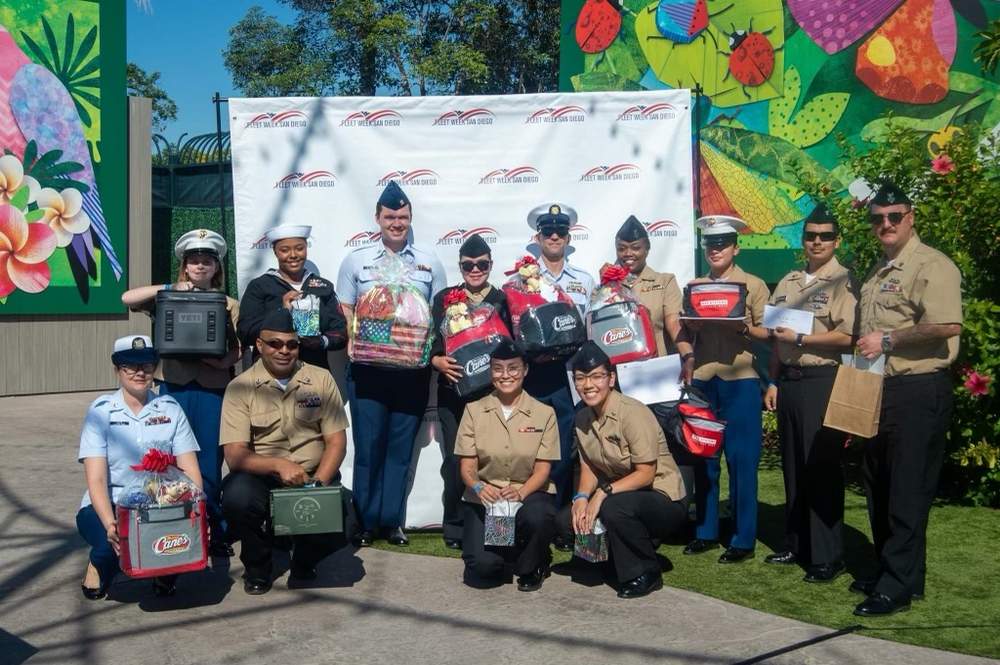 On November 3, 2023, San Diego Council President Ed Naranjo and VP Tracy Owens attended Fleet Week San Diego Enlisted Recognition Luncheon at the iconic; Worlds Famous San Diego Zoo, where Sailors, Marines and Coast Guard service members were recognized for their outstanding service and professional excellence.  Bravo Zulu to all the service members!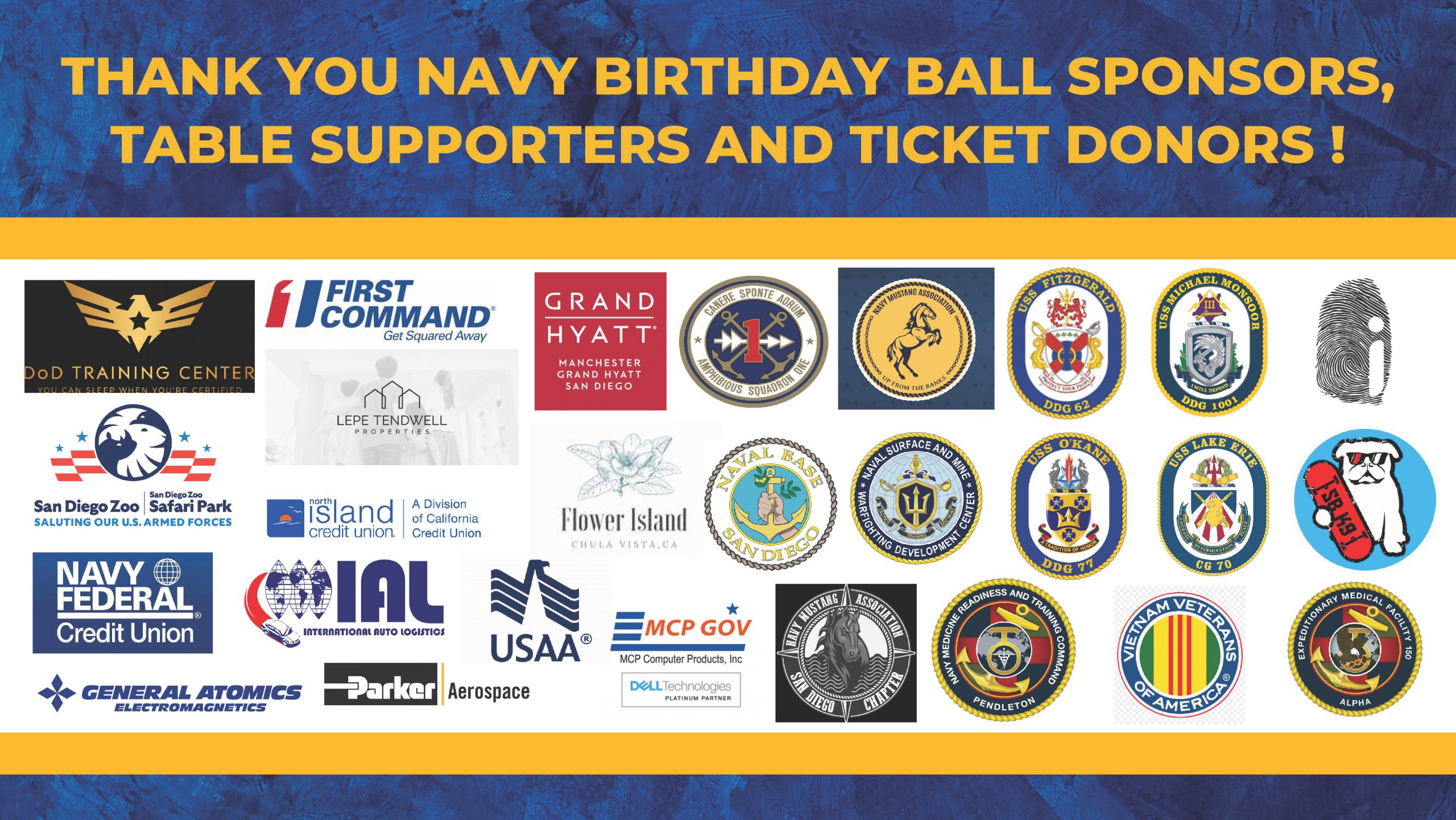 San Diego Council's hosted the 2023 Navy Birthday Ball (NBB) on Saturday, Oct 14, 2023 at the Manchester Grand Hyatt Hotel located downtown San Diego at the embarcadero with 785 guests in attendance, celebrating 248 years of excellence and with this year's theme of "Power, Presence and Protection".  During this special occasion guests enjoyed music from the Navy Region Southwest Band, 5 Star Dinner and DJ music from Impressions San Diego and the traditional cake cutting ceremony.  Special thank you to Commander, Naval Surface Forces, U.S. Pacific Fleet, Rear Admiral Yvette Davids as guest speaker. Thank you to the Navy Region Southwest NBB Committee Lead Officer; LT Felicia Goodell, Assistants; CS1 Julia Murphy and YN1 Gary Caufield, Color Guard; BMSN Rosio Maltos, MA2 Samantha Collura, MA2 Myers Pope, and ABE1 Shandayln Knudson, Public Affairs Photographers; MC3 Kevin Tang and MC2 Sang Kim and Volunteers; YNSN Lewis, YN2 Eve Symonett, IT2 Janice, EM2 Franklin Garcia, NC1 Suarez, IT1 Aquino, IT1 Tony Ignasiak, IT1 Wedel and Alice Robles.  Special thank you to Flower Islands Chula Vista; Dani Moser and Hyatt's Rich Mitrovich, Jeff Edwards, Monica Bolt and Nicole Boone.
2023 MCAS Miramar Air Show – September 23, 2023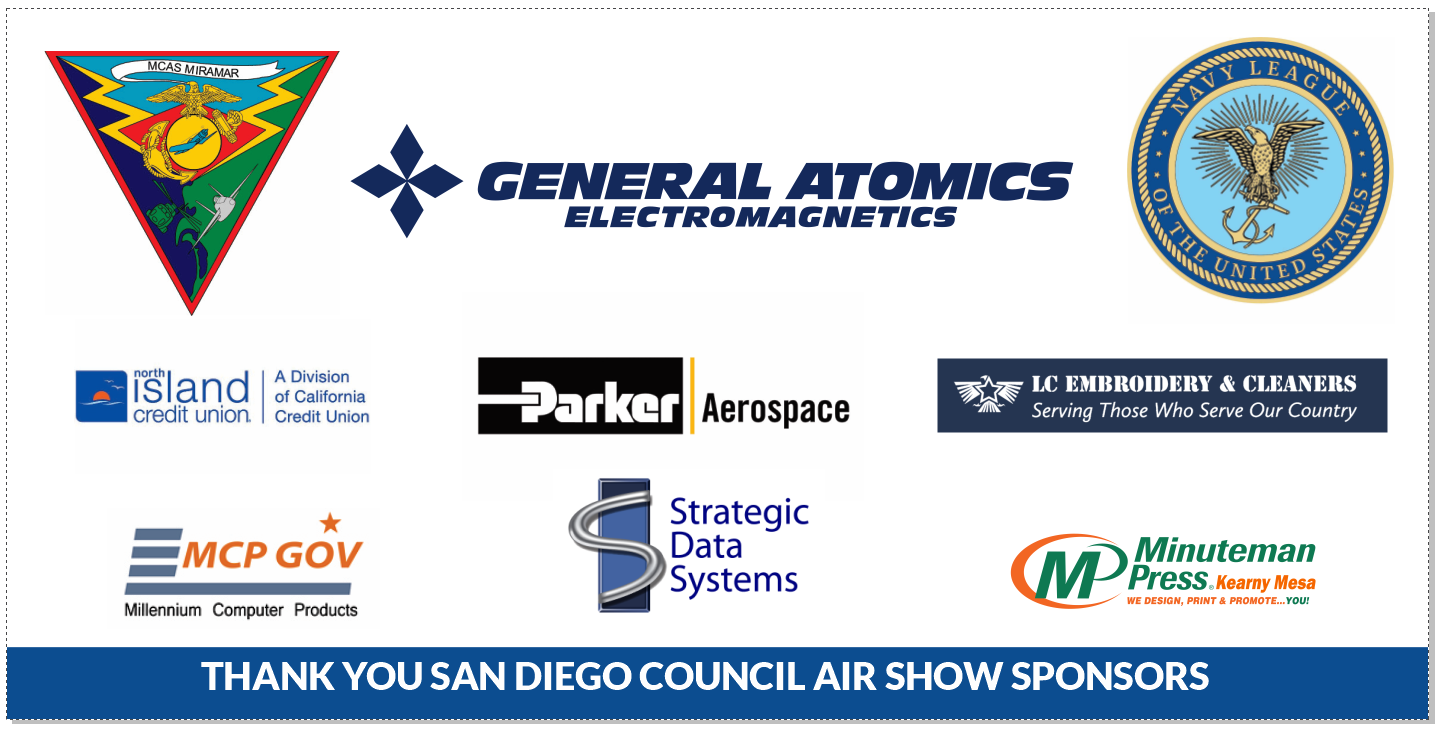 Well Done to Air Show Lead & Board of Director Shane Steinfeld and committee members; Ira and Jasmine Heid, Charles Clark, Chelsea Booth in leading the 2023 MCAS Miramar Air Show that hosted 200 families and friends in its Chalet at MCAS Miramar on Sept 23, 2023. The guests enjoyed front row seating to the largest aerodynamic show in the country, that included the Navy's Blue Angels. Special thank you to our Sponsor Presidents, Business Owner & Representatives – MCP Gov; Raj Ghai, Strategic Data Systems; Jeff Wylie, North Island Credit Union – Roger McTighe, General Atomics Electromagnetics; Alec Gordan and Rolf Ziesing, LC Embroidery; Rolan Patzi, and Parker Aerospace; John Miles.
2023 IFWG Social Reception – September 11, 2023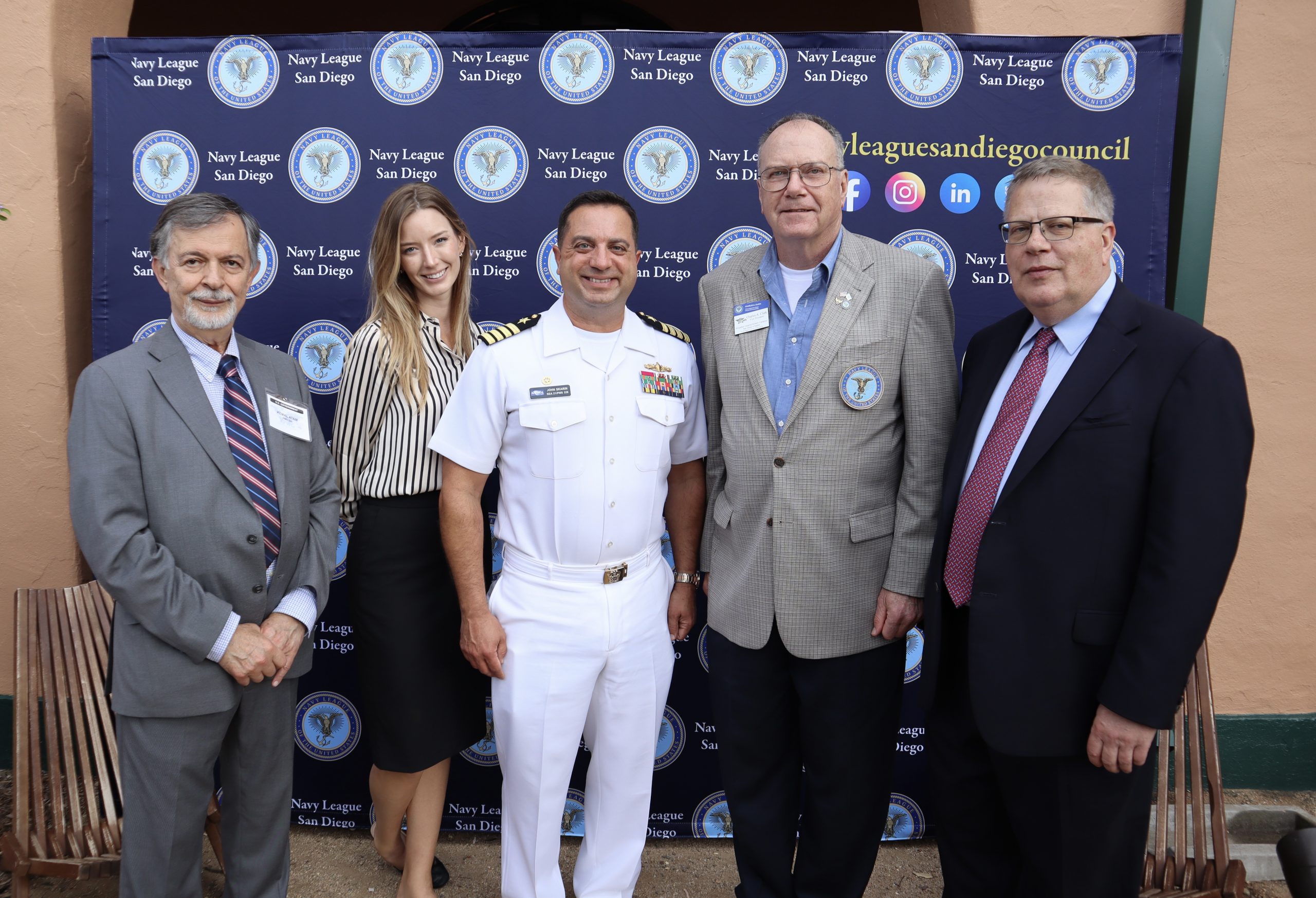 Well Done to IFWG Reception Lead & Board of Director Austin Krivanec in leading the 2023 IFWG Social Reception that hosted 50 guests from nine countries that operate the Oliver Hazard Perry Class Frigate at the Liberty Station San Diego Carruth Wine Cellars on Sept 11, 2023.  Special thank you to Raytheon Technologies; CAPT Jeff Westin, USN(Ret) as the sponsor.
Cammies 2 College Event – August 5, 2023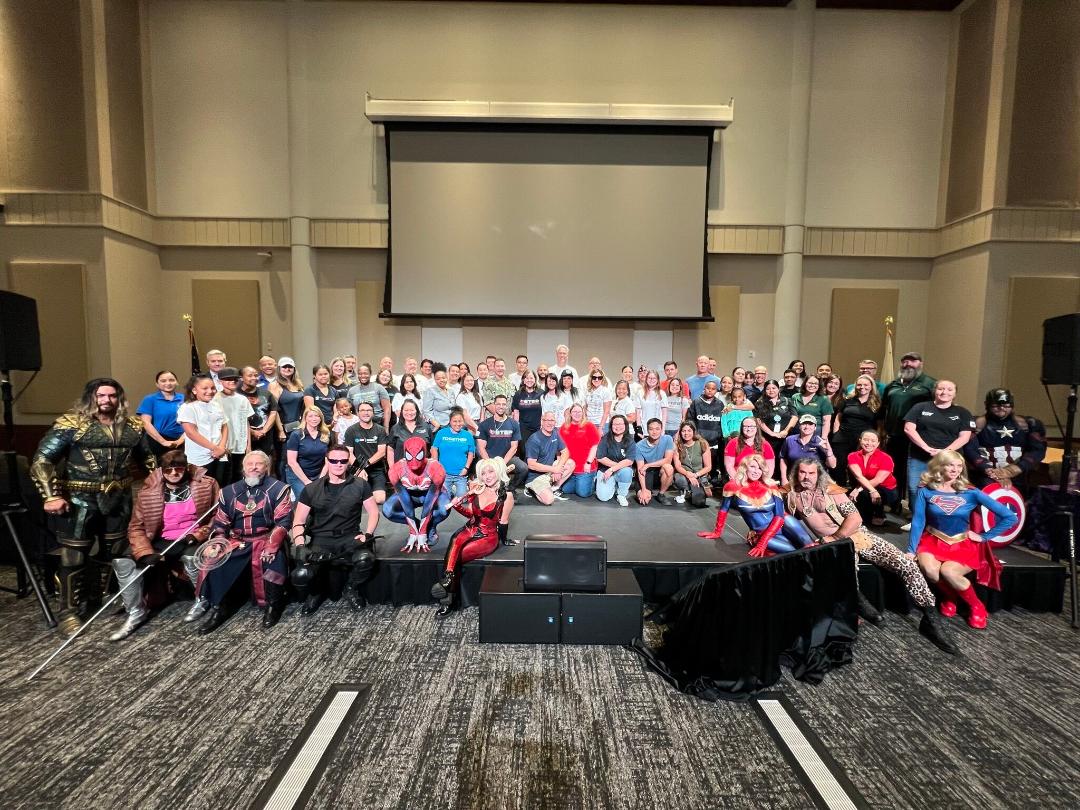 Well done to Council Vice President; Tracy Owens in leading the 2023 Cammies to College event that hosted numerous educational, nonprofit and veterans associations at Liberty Station on 5 August 2023.  During this event over 400 military families visited to hear and learn about the numerous college programs, scholarships and opportunities available for 2023/2024. This year's event included numerous super hero actors for the kids to enjoy.  To include, the annual backpacks and school supplies provided to kids for this upcoming new school year.
2022 Sea Services Golf Tournament – July 21, 2022
Thank you to our Golf Committee Chair Chris Catania and his team in leading this year's Sea Services Golf Tournament.  Including all our sponsors for supporting
our special event.
San Diego is Coast Guard City USA!
The City of San Diego is the largest Coast Guard City in the United States. Our San Diego Council congratulates the United States Coast Guard Sector San Diego and the City of San Diego for its recertification as "Coast Guard City".
Additionally, Special Thank you to both Captain Eric Cooper, and Captain Timothy J. Barelli for your strong support of our San Diego Council and congratulations on your successful Coast Guard career, Fair Winds and Following Seas!   Welcome Aboard Captain James W. Spitler as the United States Coast Guard Sector Commander and Captain of the Port of San Diego California and USCG Maritime Security Response Team Commanding Officer – CAPT Robert J. Berry.  SEMPER PARATUS!
CPO Birthday Celebration & Charity Event
San Diego Council held its first Charity Event coming off a two-year COVID Post Pandemic. The Charity Event Celebrated the U.S. Navy Chief Petty Officer's Birthday – 129 Years of Excellence. The event had 75 guests for the celebration that range from business leaders to sponsors and guests from the community. Including Commander, Naval Air Forces U.S. Pacific Fleet, Force Master Chief Trenton Schmidt, Expeditionary Strike Group THREE CMC Matt Danforth, USS San Diego CMC John Lanza, USS JOHN FINN CMC Erika Lavallais, DESRON23 CMC William Coston, MCRD 1stSgt Carlos Canezgil and GySgt Kenneth Catledge, along with many Sailors and Marines from all paygrades in attendance. The San Diego Council thanks all our Sponsors for their generous donations in gifts to support our Charity Event.
2022 AFCEA West
The San Diego Council participated in the three day Armed Forces Communications and Electronics Association Convention at the downtown convention center.  AFCEA is a professional association that connects people, ideas and solutions globally by networking and educational opportunities.  Special thank you to Board Member and Former San Diego Council President; Dave Grundies, CAPT, USN(Ret).  Dave is the Business Owner of Due Regard Consulting, Inc., that sponsored the Counci's booth during this special event.  This opportunity allowed members from the council to provide awareness on how The Navy League supports its sea services in the San Diego metro area.  Including, building relationships with local Businesses and Government Agencies.  Dave was instrumental in having the Commendant of the U.S. Coast Guard, Admiral Karl Schultz to visit the booth and spend time with our volunteers.
Our council members who volunteered in operating the booth met with many Defense Agencies, Contractors and Vendors from across the country.  Including, Distinguished Vistors; Dean of the Center for Maritime Strategy Navy League of the United States; James Foggo, ADM, USN(Ret), Commander Third Fleet, VADM Stephen Koehler, Commander Navy Region Southwest, RDML Stephen Barnett, Coast Guard San Diego Sector Commanding Officer & Command Master Chief; CAPT Timothy Barelli and CMC Greg Via, Afloat Training Group San Diego Command Master Chief Alex Ortiz and his Chiefs, Miramar and 1st Marine Expeditionary Force Master Sergeant Brad Faulkener and Sergeant Major Jeremy, CEO/President of Support The Enlisted Project Tony Teravainen and NJROTC.
A special thank you to our volunteers; Jay Rindler, Bob Berman, Marty Magana, Nil Ng, and Tracy Owens.