My name is Reinna Gabriel and I am a second year student athlete
studying Human Development and Business at Cornell University. I am
extremely lucky and honored to have the opportunity to apply to the
Alexander Kreiglowa Scholarship and represent my dad who a disabled
service member. Receiving this scholarship has helped me tremendously in
achieving my academic and athletic goals. It has given me more time
to focus on my rigorous academic schedule and competitive sport rather
than worrying about tuition. Since Ivy League schools do not offer
academic or athletic scholarships, I am not as fortunate as other
athletes playing D1 sports. I will be paying full tuition. Being a
student athlete at a prestigious Division 1 school is like having a full
time job, between training, conditioning, watching film,
traveling to games, doing homework, attending tutoring, and studying. I
have to manage my time perfectly in order to keep up with all of my
responsibilities and having a job would almost be out of the question.
With an interest in attending medical school, this scholarship will
help me lower my student loans as an undergraduate, and help me further
my career. Words cannot describe how thankful I am to receive
this scholarship. The donors work so hard to make this possible for me,
so I will work hard for them. Their generous donation is one of
the major reasons that I am close to achieving my academic goals. Thank
you for helping me pave a path to my future.
My name is Gabrielle Montroy and I am a proud recipient
of the 2021 Alexander Kreiglowa Scholarship Award. I am currently a
second year Psychology student at the University of California, Merced.
I am blessed to be able to receive this scholarship as a triplet. Having
three students in college at the same time can cause some financial
distress. With this scholarship, I am able to focus on my school without
worrying about any expenses. Thus, I am set to graduate one year early
as I have taken on a full course load. Additionally, I have joined a
sorority and sit on the Executive board where I am gaining leadership
experience. Finally, I am a part of the Psychology club at my school and
plan to apply to be a member of the Psi Chi honor society.
I could not have accomplished all of this without the assistance of my
parents and the San Diego Council of the Navy League! I will always be
thankful for my father's 20 years in the Marine Corps that have led me
to qualify for this scholarship. Thank you San Diego Council of the Navy
League for allowing me to pursue my higher education!
"My name is Sarah Mauricio and I am a proud recipient of the 2019
Alexander Kreiglowa Scholarship. I am currently a
senior at the University of California, Los Angeles (UCLA) majoring in
Computer Science. I am so thankful for the opportunity to receive this
scholarship. It has allowed me to focus more on my studies and less on
earning money to pay for my education. I have not had to worry about
getting a job on campus, allowing me to spend more time on my
schoolwork, and I am really appreciative of this. Because of this, I
have been able to intern at Meta for the past two summers as a Software
Engineer and am excited to share that I will be working full-time at
Disney starting in August. My dad was in the US Navy for 26 years. I am
forever grateful for the sacrifices he has made and am thankful for
everything the Navy League does. Thank you so much for this opportunity,
San Diego Council of the Navy League!"
Best,
Sarah
I am extremely grateful to be a recipient of the San Diego Council of
the Navy League's Alexander Kreiglowa scholarship. This award has made a
tremendous impact on my academic and professional endeavors.
Not only has the scholarship provided me financial assistance, which
allowed me to focus on my studies without additional stress from
financial burdens, but it also gave me more time to concentrate on
achieving my chemical engineering B.S. at UC Berkeley.
The support and encouragement from the Navy League has been invaluable,
and I am thankful for the opportunity to be supported by such a
prestigious organization.
Due to this support, I was able to spend my time joining the Red Cross
organization at UCB and also devote myself further beyond my studies by
attending events under the American Institute of Chemical Engineers
(AICHE), gaining greater insight into varied fields and learning from
professionals.
Thank you to the San Diego Council of the Navy League and all of the
sponsors who make this scholarship possible. It has truly made a
difference in my life, and I am grateful.
My name is Josh Ramon, and I'm a 2022 graduate of O'Farrell High School
in San Diego. I am one of four recipients out of 39 competitive
applicants to receive the 2022/2023 Alexander
Kreiglowa Scholarship. I'm humble for this opportunity and grateful to
have received this scholarship grant. I'm not only appreciative of the
Navy League's love of
giving, but their commitment to support the Sailors and their families
within their struggles and endeavors.
As a son of a U.S. Navy Chief Petty Officer Marlon Ramon, I was
introduced and eligible to participate in this scholarship program.
Despite my limited time with my Dad because of his work, I'm thankful
for his sacrifices as well as the many other active duty service members
who serve this country.
Through the opportunities this scholarship has provided, I am currently
attending the University of California San Diego as a freshman. I hope
to get a Master's Degree in Aerospace Engineering, so I can devote my
efforts into aeronautics. Thank you again Navy League San Diego for
alleviating the financial stresses college has placed on both myself and
my parents. I dream to one day to give back to students like myself as
Alexander Kreiglowa recipient and to the Navy League for what it has
done for me.
I am Symone Atienza and am the grateful recipient of the San Diego Council of the Navy League's 2022 Alexander Kreiglowa Navy and Marine Corps Dependents Education Scholarship. I graduated from SHAPE American High School in Belgium. As a member of an international community, I was taught to appreciate service, family, and nation while learning about other cultures and how to better understand them. The Navy League's generosity affords me the opportunity to focus on my studies at Villanova University as a member of the class of 2026 while I study alongside my fellow Wildcats from all 50 states as well as 55 other countries where I am majoring in mathematics. My parents and family along with my experiences and studies thus far have prepared me well for the challenges that lie ahead. I am very much looking forward to the opportunities that await me and especially for the opportunity to give back to the community. Thank you, San Diego Council of the Navy League!
My name is Joyce Navarro and I am a senior at the University of California, Riverside. I am so thankful to the San Diego Council of the Navy League for providing me with the Alexander Kreiglowa Scholarship award. This has helped alleviate a big stress throughout the course of my undergraduate education and I cannot fully express my gratitude. I am able to worry less about money and focus on navigating college as a premed, and obtaining my Biology B.S and Psychology minor. At UCR, I am enrolled in the Honors program and am part of their leadership as an Honors Ambassador. I am also a Supplemental Instruction Leader and UCR Collective Mentor, roles where I guide other students in their journey to success. My dad served in the U.S. Navy and as a military brat who has lived all over the U.S., I have developed an appreciation for family, service, culture, and patriotism. Thanks to the Navy League and their generous gift, I am able to live out these values and pursue the numerous opportunities life has in store for me!
My name is Madison Matella, and I am beyond grateful to the San Diego Council of the Navy League for awarding me the 2021 Alexander Kreiglowa Navy and Marine Corps Dependents Education Scholarship. I am the daughter of Commander Thomas Matella and Mrs. Kristen Matella, and my experience as a military child has shaped me in countless ways.
I graduated from Oceanside High School alongside my brother Mitchell with an appreciation for service, family, and patriotism, as well as an appreciation for other cultures which was influenced by my frequent military moves. Following the footsteps of my father, who has demonstrated true commitment in nursing throughout his 21 years in the Navy, I chose to pursue my Bachelor of Science in Nursing degree at Villanova University, where I am currently a sophomore. In college, I am a Section Leader for the Villanova Band, volunteer with the elderly, serve at the Catholic masses, and am a Resident Assistant in the halls.
These experiences help nourish my love for fostering community, and I know that they will prepare me as I hope to pursue my Master of Science in Nursing degree to become a Family Nurse Practitioner. I look forward to the many opportunities that await me throughout the rest of my studies at Villanova to continue give back and express my heartfelt gratitude to the San Diego Council of the Navy League for their generosity!
My name is Jack Peterson and this fall I will be attending Montana State University. I'm extremely grateful to be awarded a scholarship through the San Diego Navy League as this will allow me to focus on my goals full time.
Without the scholarship, and the gracious donations given to the Navy League, I would have to have a part time job to earn money for college as well as focusing on my studies
, therefore prolonging my enrollment in the university and hindering future career goals.
Instead, now I am able to commit all of my time to achieving my higher education goals and look forward to my future.
While at Montana State I plan on becoming involved in school athletics. After captaining the water polo team at Patrick Henry High School and swimming as a senior member of the Swim & Dive team at PHHS, a couple of newfound friends and I have already put forth a goal of establishing a Water Polo Club on campus.
I plan on studying Wildlife Ecology and working in Environmental Conservation once I graduate.
I'd like to pursue studies in this field because of my upbringing in Germany, where my father was stationed for some time. However, I'm not placing all my eggs in one basket and remain open to researching new fields that I learn about!
In the meantime I will utilize my time not spent in the classroom exploring Montana's rivers and trying to catch the biggest Rainbow Trout I can. Thank you!
My name is Sofía Bernal, I am a proud recipient of the Alexander Kreiglowa Navy and
Marine Corps Dependents Education Scholarship administered by the San
Diego Council of the Navy League.   I am the daughter of Command Master
Chief Samuel Bernal Jr., and Rosemary Garcia-Bernal.   I graduated from
The School of College Connections at Kearny High School in San Diego,
California with Honors in 2021.  I attend Texas Tech University
in Lubbock, Texas, where I am majoring in Early Childhood Education.
I plan to attend graduate school to earn my master's degree in
Special Education in hopes of becoming a special education teacher.
I am thankful for this Scholarship Award, Thank you San Diego Council.
– Sofia Bernal, Class of 2025, Texas Tech University School of Human Sciences
" My name is Ashley Boomer, and I am a junior at the University of
Southern California and a recipient of the 2020 Alexander Kreiglowa
Scholarship. I graduated from Notre Dame High School in San Jose,
California with a 4.63 GPA in May of 2020. I then began to attend USC in
August 2020 as an honors student and presidential merit scholar, where I
have maintained a 4.0 GPA. I am simultaneously pursuing a bachelor's
degree in Psychology as well as a master's degree in Management of Drug
Development. This is a fantastic opportunity unique to USC that I would
not have been able to work towards without Alexander Kreiglowa and the
Navy League of San Diego. My dad, a retired marine, and I are forever
grateful to the Navy League and the gift of opportunity that they have
so generously provided me. Because of them, my future is full of endless
opportunities that I cannot wait to explore after my graduation in May
of 2024."
"Thank you to the Navy League of San Diego for providing me with such a
generous scholarship award. This gift alleviates such a large burden and
I'm beyond thankful. My dad is an active member of the Marine Corps and
we love all of the amazing things this organization stands for. So just
a huge thank you so all of the incredible people who made this happen
I'm so excited for the many opportunities it allows me"
"My name is Kadrianna Hall and I'm beyond grateful for this
scholarship. I am starting at Loyola University Chicago in the fall and
plan on majoring in psychology while pre-med. I have already been
accepted into their international living learning community where I'll
be able to diversify my knowledge about the world and its many cultures.
I hope to someday practice internationally so I know this is a great
start. After university and medical school I plan to specialize in
pediatric oncology and work in a children's hospital once I settle in
the states"
My name is Logan Schmidt. I am a sophomore at Montana State University and a recipient of the 2020 Alexander Kreiglowa Scholarship. In the spring of 2020, I graduated as Valedictorian of Monte Vista High School in Spring Valley, California with a GPA of 4.733. After graduation I moved to Bozeman, Montana and now attend Montana State University while pursuing bachelor's degrees in chemical and biological engineering.
Going into college, my plan was to pursue chemical engineering. With the help of Alexander Kreiglowa and the Navy League of San Diego I have been able to devote more time to education, which has allowed me to pursue both chemical and biological engineering majors as well as biomedical engineering and chemistry minors. All while maintaining a high-grade point average of 3.82.
My dream is to one day attend medical school and become a surgeon. Having a high GPA as well as pursuing multiple majors and minors make me far more competitive and boost my chances of getting into medical school.
It is the donors which make this possible. I cannot thank Mr. Kreiglowa, the Navy League of San Diego, and the generous donors for allowing me the opportunity to gain the most of my time at college. Without donations to the scholarships of the Navy League I would fall short of what I hope to accomplish. Through Navy Leagues scholarships, it is possible to turn a kid's far off fantasy of getting an education and pursuing his dreams, into a reality. Just as the Alexander Kreiglowa scholarship has done for me.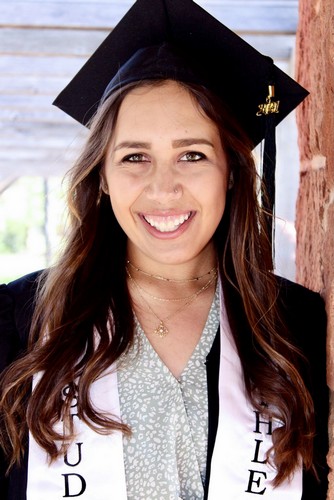 "My name is Cassidy Davila and I was one of the Alexander Kreiglowa Scholarship recipients from the high school class of 2017. On Saturday, May 8th, I graduated Magna Cum Laude and with the honor of being a President's Award finalist from Southern Nazarene University with a Bachelors of Science degree in Mathematics Education. Following graduation, I will be moving to Oklahoma City to teach Algebra 1 and be an assistant coach for softball.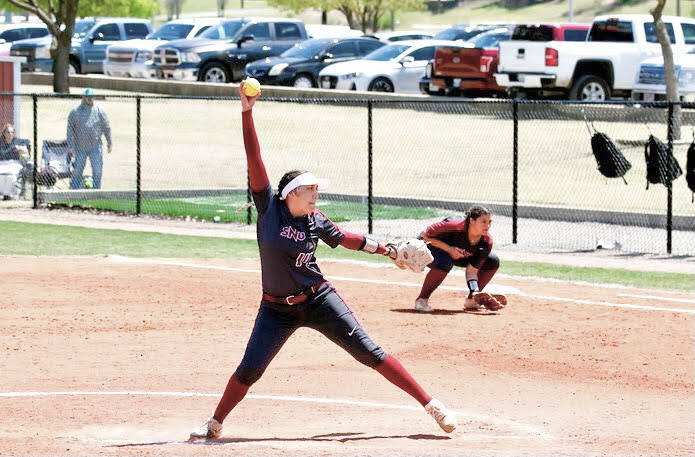 In reflection of my past four years at college, I just wanted to take the time to thank Mr. Alexander Kreiglowa and the San Diego Council of the Navy League from the bottom of my heart. My family has always struggled financially, but the Alexander Kreiglowa Scholarship allowed me to pursue my dreams of playing collegiate softball and to become a teacher. This scholarship relieved so much stress from off my family and my shoulders.  I cannot thank you enough!
I remember very clearly when I first received a call informing me that I was a recipient; I cried so many tears of joy that night. Attached is a photo of me in my cap and grown. I thank you again for all that you do and the impact you make on families like mine."
Sincerely,
Cassidy Davila
Serve those who serve by joining the Navy League today!
Serve those who serve by joining the Navy League today!
The award-winning Blue & Gold is published monthly. It features hot news, highlights event speakers, covers legislation and much more.
JOIN THE COMMUNITY
The Navy League depends on passionate individuals like you to support
those currently serving and advocate for the sea services.