Our Sponsor for This Event: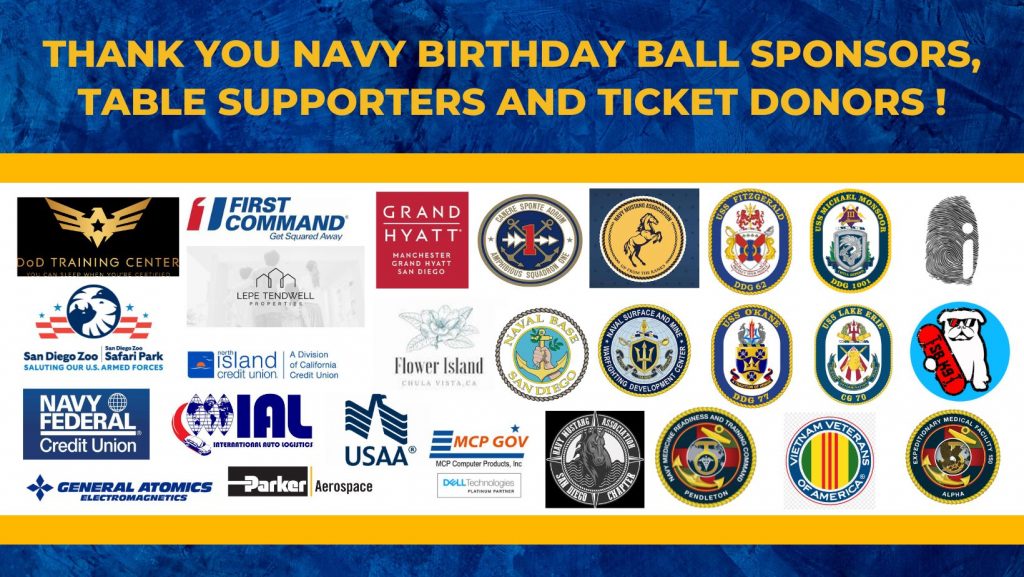 Date: Sat, Oct 12, 2024
Time: 6:00pm – 12:00 (midnight)
Location: 1 Market Pl, San Diego, CA 92101
Directions:
Hotel Reservation Blocked Rooms Information:
Oct 4, (12:00pm PST) – Final Date/Time to reserve/book a blocked room.  20 Standard Room set aside at $279.
NOTE:  Room Rate is $279.00 + $20 Destination Fee + Accommodation Taxes (Total being $337.01 per room).  Check-in is on Sat, Oct 12th, with checking out at Sun, Oct 13th.
If you need additional assistance, please contact us at 
877-803-7534
 or click 
here
 to find contact information by Region.
If the group rate is no longer available, prevailing rates may be offered for some or all of your dates.
Dinner Menu:
SALAD
California Bistro (V, N)
Kale, Mizuna, Frisee and Red Romaine, Apple Braised Barley, Coachella Valley Dates, Radish (on top), Goat Cheese(on side of plate/salad), Toasted Pistachio with Champagne Dijon Vinaigrette
ADD: Ciabatta Crostini
ENTREES
Porcini Rubbed Filet of Beef with Herb Chicken w/ Cabernet Sauvignon Sauce
White Cheddar Potato Gratin, Baby Vegetables, Mushroom Demi-Glace
~
Vegetarian: Eggplant Lasagna Rollatini with House Made Ricotta,
Roasted Tomato Sauce (GF) with Roasted Garlic Risotto (V).
DESSERTS
Trio of Mini's:
Mocha Mousse Tartlet,
Caramel Swirl Cheesecake with Candied Pecans and Vanilla Cream (V, N),
Sticky Toffee Pudding with Bourbon Caramel Sauce
NOTE:  When purchasing your tickets, please indicate menu selection on either (1) the Duo Entrée of
Filet of Beef & Herb Chicken or  (2) Vegetarian Eggplant Lasagna Rollatini w/Ricotta.  Regardless of option 1 or 2, both menu orders will include salad and dessert.  For more information you can contact 
executivedirector@navyleague-sd.com
Information:
Come join us in celebrating the Navy Birthday Ball at the Manchester Grand Hyatt Hotel.  We will be offering sponsorship to this Special Black Tie Event.  What better way in thanking a service member, by sponsoring them at your table for dinner in celebration of the United States Navy's 249th Birthday.  The following amenities are included;  Special close up to stage seating, 5 Star dinner reception, VIP valet parking pass, complimentary bottle of wine, military honors and recognition, music and entertainment, professional photographer, sponsorship recognition, logo advertised on website, newsletter and social media, Navy Region appreciation gift, tickets to future breakfast events, and more.
INDIVIDUAL TICKET
Early Bird Purchase – 

$100 until Sept 11th
Regular Purchase – $150 starts Sept 12th
Note:
– Military personnel purchased tickets through the San Diego Council website, will include Complimentary Breakfast at November's Breakfast Event on Nov 1, 2024.
– Only Regular Purchased Individual Tickets as a Group (8 tickets) will be able to reserve a table.  Purchased group tickets must all be made on one purchased (not separate).
– Every effort will be made with Sponsors purchasing additional individual tickets being seated close or near proximity of sponsor's table.
– Sole Individual tickets will be seated at the discretion of Navy Region Ball Coordinator.
– Purchased San Diego Council tickets supports the Navy Birthday Ball Celebration and the Navy League of the United States San Diego Council in meeting its mission in the San Diego Community. 
The San Diego Council is a 501(c)(3) nonprofit organization that supports America's sea services through Award Recognition, Operation Welcome Home, Scholarship and Youth Programs. 
EIN# 
95-3864195
.