Navy Ships Returned to San Diego After a Seven-Month Deployment
Navy Ships Returned to San Diego After a Seven-Month Deployment 
Last week, three Navy ships returned to San Diego after a seven-month deployment around the world. The three ships include the amphibious assault ship, USS Makin Island (LHD 8), and two amphibious transport dock ships, USS Somerset and USS San Diego. They carried 5,000 locally based Sailors and Marines who were eager to return home to their families. After a long and challenging deployment, they returned to their homeport, Naval Base San Diego, on Sunday, May 23rd. The Navy ships served as crisis-response forces for combatant commanders located in Africa, Central, and Indo-Pacific Commands.
"I am so excited to be able to welcome home the Makin Island Amphibious Readiness Group and 15th Marine Expeditionary Unit to San Diego," stated the Commander of Expeditionary Strike Group 3, Rear Admiral Philip Sobeck. "These ships were deployed during an unprecedented pandemic and demonstrated the ability of the Navy and Marine Corps team to fight through to do the mission. I am so incredibly proud of each and every one of them and their families for their service and their sacrifice."
The team deployed in October, but due to the Navy's COVID-19 protocols, they had to quarantine and train for two months before they were able to leave. Their training involved back-to-back at-sea exercises. They had an extremely well-developed training plan but had to re-write it immediately before deployment, which extended the deployment from six months to almost eight months.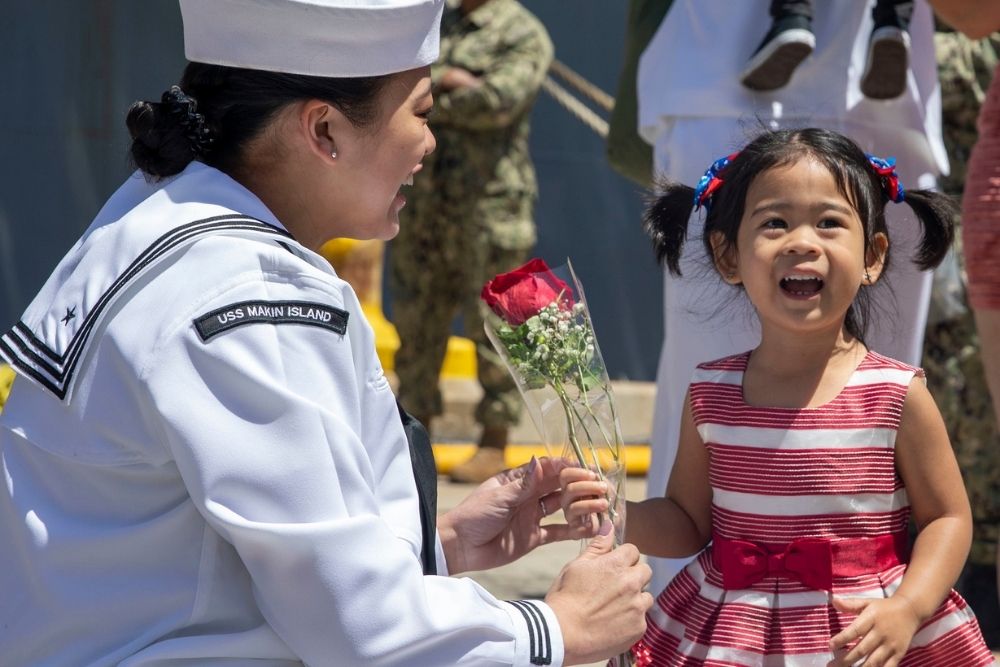 Returning Home
The long-awaited return was even more exciting for a handful of families allowed to wait for their loved ones at the pier. Due to COVID-19 restrictions, only a certain amount of people were allowed in the area. Some family members even held new babies, waiting to meet their dads for the first time. Keith Ratliff, whose first son was born while he was deployed on USS San Diego, stated, "I'm happy to be back. I got my son, my wife here; it's an amazing feeling to be back. I can't believe I was out there for months. I know it was hard on her too; it was hard for a long time." Marines and Sailors were overjoyed to be back home in the arms of their loved ones.
"The end goal was him coming home, so that was something to look forward to; that's what kept me going. Being a mom, you don't get breaks. You have to push through no matter what, so that was also what helped me," said Ratliff's wife, Julie Post.
The Deployment
To minimize contact with others and maintain COVID-19 protocols, they stopped at fewer ports than they would in a typical deployment. The Department of Defense sent them shipments of the vaccine during the deployment. When they were in Bahrain, the USS San Diego received Moderna, and the other ships received the Johnson & Johnson vaccine. They became the first ships in the Navy to vaccinate Marines and Sailors while at sea. The ship's medical team was trained on administering the shots, allowing them to get the vaccines on board.
Throughout their deployment, they conducted more than 6,800 launch and recoveries, 10,000 hours of flight operations, and traveled over 135,000 nautical miles of open oceans and restricted waters. In December, they participated in Operation Octave Quartz, helping ensuring U.S. forces relocated from Somalia to other East African nations safely. They also participated in Operation Inherent Resolve in Syria and Iraq, conducted joint operations with allies in Asia, Alaska, and the Middle East. The Marines and Sailors also conducted freedom of navigation exercises in the South China Sea with the Theodore Roosevelt Carrier Strike Group.
They accomplished a lot and demonstrated incredible dedication during the challenging deployment. The 7-month deployment was operationally diverse, from the heat during Operation Octave Quartz in Somalia to the cold weather of Northern Edge in Alaska. We're extremely proud of the Sailors and Marines for their hard work and are happy they're reunited with their friends and family!
For more Navy League news and updates, click here.
The award-winning Blue & Gold is published monthly. It features hot news, highlights event speakers, covers legislation and much more.
JOIN THE COMMUNITY
The Navy League depends on passionate individuals like you to support
those currently serving and advocate for the sea services.