Maritime Forces from Australia, India, Japan, and the U.S. Complete Naval Exercise Malabar 2020
Nimitz strike group concludes the Malabar 2020 with Australia, India, and Japan. Maritime forces from Australia, India, Japan, and the United States completed Phase II of the multilateral naval exercise Malabar 2020 on November 20.
Malabar 2020
The naval exercise conducted this November improved integration between Australian, Indian, Japanese, and U.S. maritime forces. It provided an opportunity to conduct engagements highlighting cooperation between allies and partners in the Indo-Pacific.
"The exercises conducted during Malabar provided opportunities to enhance our interoperability and strengthen our maritime partnerships with India, Australia, and Japan," explained Capt. Elaine Collins, commander, Destroyer Squadron 9. "Our ability to replenish ships at sea, conduct live firing exercises and communicate with one another, ship-to-ship, demonstrates our cooperation and shared goals of fostering security and stability in the Indo-Pacific region."
Reinforcement of Mutual Desire to Improve Maritime Security
With the arrival of the Nimitz Carrier Strike Group in Phase II, all of the nations that were involved were able to further strengthen the integration of their naval air forces via air defense exercises.
"Operating with Australia, India, and Japan via cross-deck landings, carrier landing approaches and aerial refueling during Malabar has been instrumental in enhancing the compatibility of our naval air forces," said Capt. Todd Cimicata, commander, Carrier Air Wing 17. "We are honored by the professionalism of our partners, and look forward to flying together again as we reinforce our mutual desire to improve maritime security in the global commons."
Events Conducted
The events conducted in Phase II of Malabar included:
A photo exercise
Night operations
Air defense exercises
Helicopter cross-deck evolutions
Carrier landing approaches
Underway replenishment approaches
Gunnery exercises
Anti-Submarine warfare exercises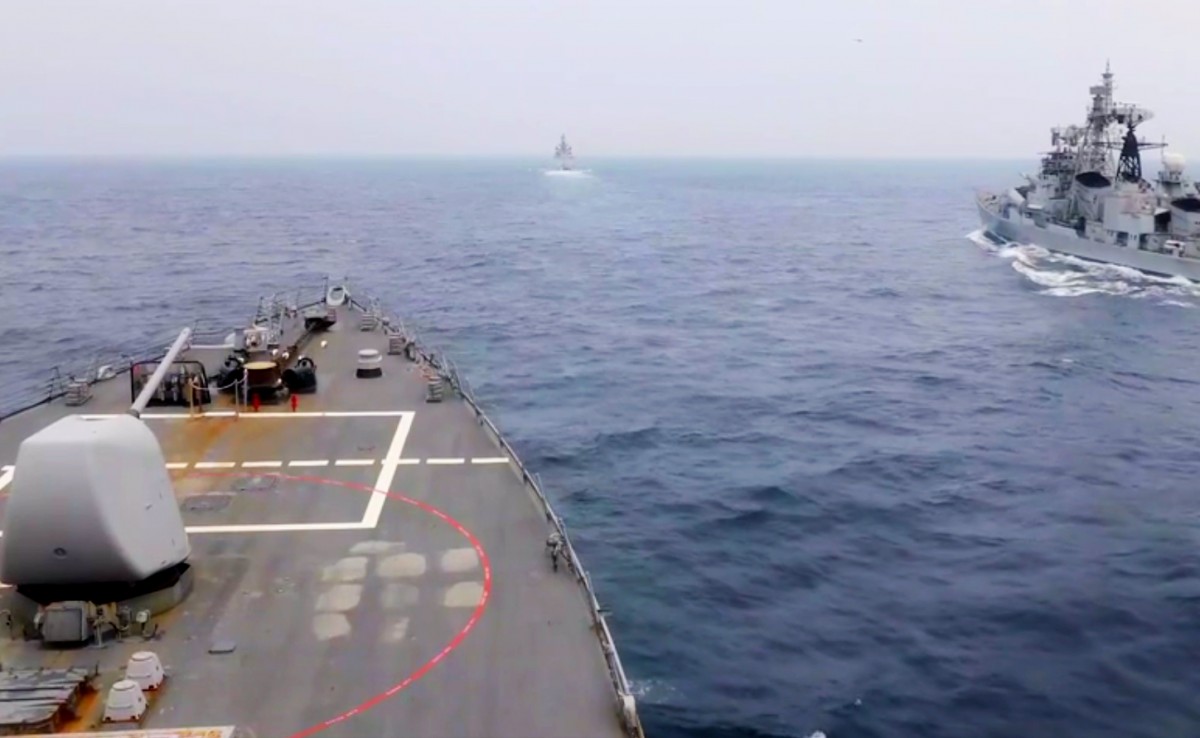 Malabar 2020 is the most recent exercise that has grown in scope and complexity over the years. It's an exercise that will continue as it promotes regional peace and security.
The U.S. 7th Fleet conducts naval operations in support of U.S. national interests in the area of operations of the Indo-Pacific. As the U.S. Navy's largest numbered fleet, the U.S. 7th Fleet interacts with thirty-five other maritime nations to build partnerships that prevent conflict, promote stability, and foster maritime security.
Check out the following video of Rear Adm. Jim Kirk speaking aboard the USS Nimitz (CVN 68) about Exercise Malabar 2020:
The award-winning Blue & Gold is published monthly. It features hot news, highlights event speakers, covers legislation and much more.
JOIN THE COMMUNITY
The Navy League depends on passionate individuals like you to support
those currently serving and advocate for the sea services.