USS Theodore Roosevelt Departs San Diego Ahead of Second Deployment in 2020
USS Theodore Roosevelt (CVN-71) and its escorts left San Diego on December 7th, ahead of a second 2020 deployment. As part of the Navy's COVID-19 mitigation procedure, the strike group had been in quarantine since mid-November. It was reported last month that, after the TR CSG's two-week quarantine ended, the strike group would get underway for a sustainment exercise followed by an eventual deployment.
Recent Deployment
Since the strike group deployed so recently, it does not need to go through the whole pre-deployment exercise and certification routine. A shorter sustainment exercise was sufficient.
"The Theodore Roosevelt Carrier Strike Group is currently underway conducting operations in the U.S. Third Fleet. The strike group is a combat-ready national asset capable of both deterrence and offensive strike that provides our national command authority with flexible options, all domain access, and a visible forward presence," 3rd Fleet spokesman Cmdr. Sean Robertson explained. "TRCSG has maintained its readiness since it returned from deployment in July. It continues to train and perform together as a unit in order to be ready for any, and all, challenges."
Other Strike Groups Preparing to Do the Same Thing
USS Dwight D. Eisenhower (CVN-69) and its strike group on the other coast are preparing to do the same thing in these upcoming months. The Eisenhower CSG also deployed this year, from January to August. It will also have to deploy a second time, which is known as a double-pump deployment. Eisenhower departed from Naval Station Norfolk, Va., over the weekend.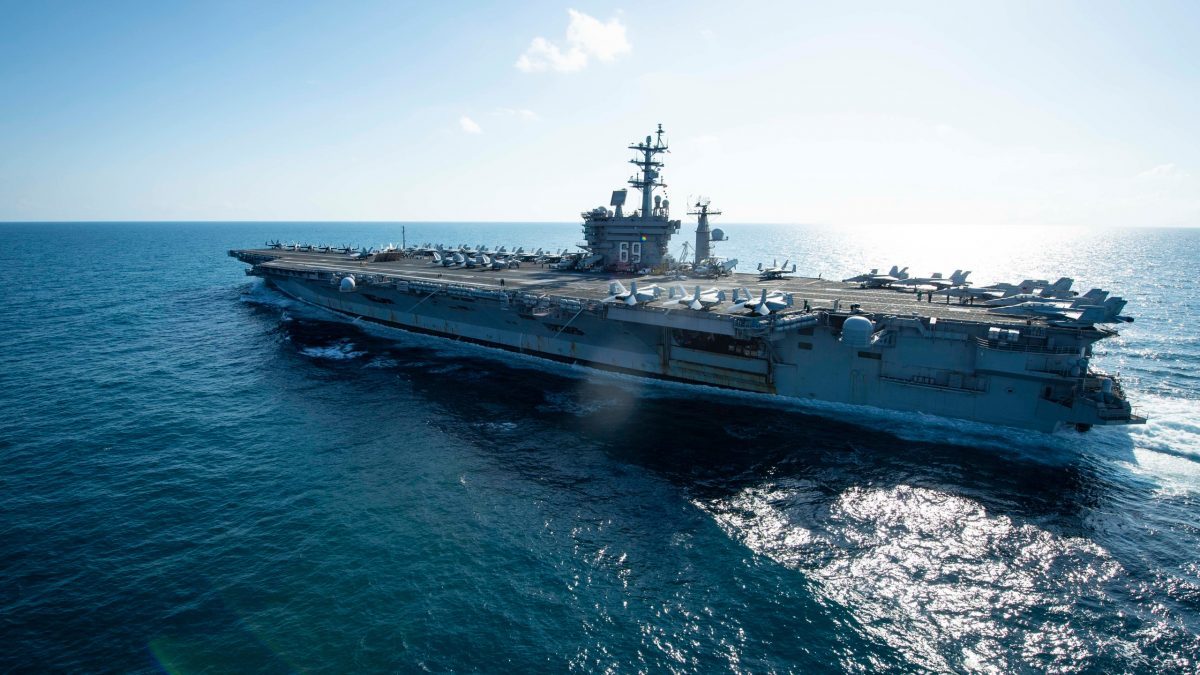 Carrier Strike Groups Deployed
Earlier this year, four carrier strike groups were deployed at once.  In the first week of July, the Nimitz and Ronald Reagan CSGs operated together in the South China Sea. The Eisenhower CSG was in the North Arabian Sea and the Theodore Roosevelt CSG was near the California coast, on its way home from deployment.
Massive COVID-19 Outbreak
The Theodore Roosevelt Carrier Strike Group deployed from January to July in a deployment that was notable for a massive COVID-19 outbreak that infected more than 1,200 of the 4,800 sailors assigned to the carrier. The outbreak killed one, Aviation Ordnance man Chief Petty Officer Charles Robert Thacker Jr.
Since that outbreak, measures have been put in place to keep sailors as spread apart as possible. Enhanced cleaning and disinfecting have been taking place. Sailors will be regularly tested to detect pre-symptomatic or asymptomatic cases.
For more Navy League news, click here.
The award-winning Blue & Gold is published monthly. It features hot news, highlights event speakers, covers legislation and much more.
JOIN THE COMMUNITY
The Navy League depends on passionate individuals like you to support
those currently serving and advocate for the sea services.