Navy's Christening of The USNS John L. Canley (ESB 6)
Sgt. Maj. John L. Canley
Sgt. Maj. John L. Canley was born in Caledonia, Arkansas, on December 20, 1937. At the tender age of 15 (1952), Sgt. Maj. Canley snuck his way into the marines under the guise of his older brother. His interest in joining the service was said to have sparked after watching the 1949 feature film "Sand of Iwo Jima," featuring John Wayde. Sgt. Maj. Canley served for over 20 years and retired on October 23, 1981. On May 11, 2022, at the age of 84, Sgt. Maj. Canley passed away at his daughter's home in Bend, Oregon.
Sgt. Maj. John L. Canley Heroism
Upon entering the service, Sgt. Maj. Canley was quickly put to work serving deployments in Japan and South Korea. Fifteen years into the service (1969), Sgt. Maj. Canley was assigned his most significant assignment yet, taking part in the Tet offensive. Sgt. Maj. Canley served under Capt. Gordon Batcheller and alongside his fellow Company A, 1st Battalion, 1st Marines members. On the morning of January 31, 1968, Sgt. Maj. Canley and his company were sent to reinforce control in the central Vietnam city of  Huế. Upon arrival, Company A, 1st Battalion, 1st Marines, was met with resistance, resulting in a cross-fire. Amid the attack, Capt. Batcheller sustained a severe injury and was unable further lead his command. Sgt. Maj. Canley quickly assumed his place, becoming the company captain. With the help of Sgt. Alfredo Cantu Gonzalez, Sgt. Maj. Canley was able to deliver his 150-man company, finding refuge in the besieged Military Assistance Command Vietnam (MACV) compound.
Medal of Honor
Sgt. Maj. Canley's conspicuous gallantry was not lost. In 1970 he was awarded the Navy Cross, which was later upgraded to the Medal of Honor, the nation's highest and most prestigious military award. Sgt. Maj. Canley received the Medal of Honor on October 17, 2018, becoming the first living Black Marine to receive it. Sgt. Maj. Canley's other military decorations include the Bronze Star, Purple Heart, the Navy and Marine Corps Commendation Medal, and the Combat Action Ribbon.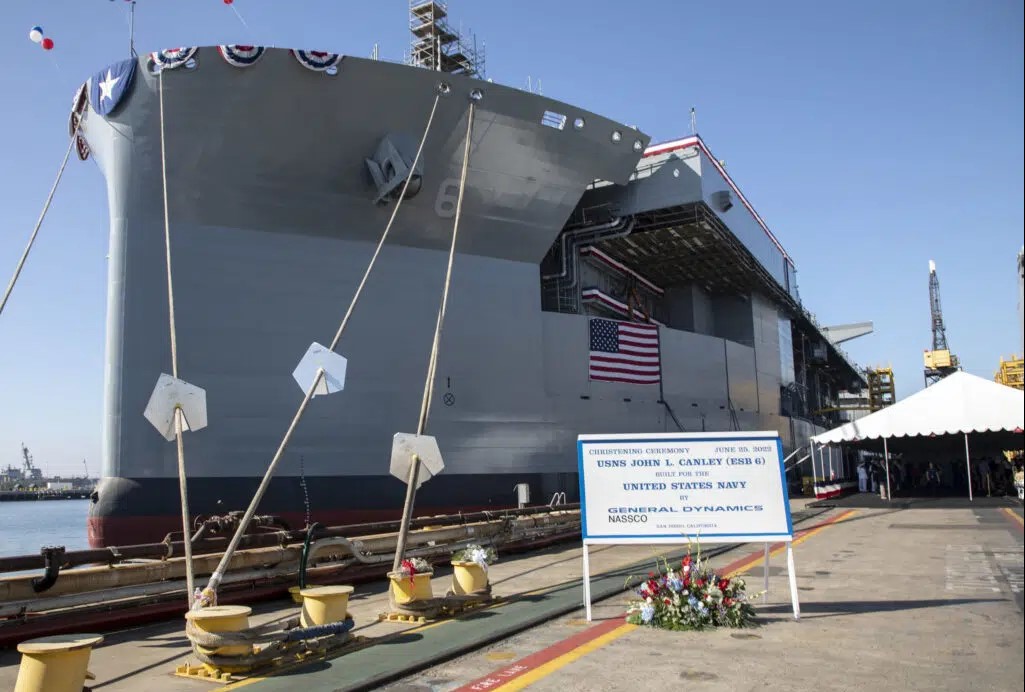 NASSCO picture               
Navy's Christening of The USNS John L. Canley (ESB 6)
"If we operate this great ship with a fraction of the skill, tenacity, and courage displayed by John Canley, our naval service will be well-positioned to meet the challenges that lie ahead!" – Thomas Kiss, Director for Ship Management, Military Sealift Command.
Shortly after, Sgt. Maj. Canley's passing, his heroism was once again recognized when the Navy designated a vessel in Sgt. Maj. Canley's name. The USNS John L. Canley (ESB 6) was christened on May 22, 2022, at the General Dynamics-NASSCO shipyard in San Diego. The christening was attended by his daughter, Patricia Sargent.  The USNS John L. Canley is attached to the Expeditionary Sea Base (ESB). ESBs are used for various military operations, serving as mobile sea bases. The vessels are a vital component of the U.S. Naval and Marine effort to maintain a secured global position under the Distributed Maritime Operations (DMO).
Don't miss out on any Navy scoop moving forward! For more Navy League news and updates, click here.
The award-winning Blue & Gold is published monthly. It features hot news, highlights event speakers, covers legislation and much more.
JOIN THE COMMUNITY
The Navy League depends on passionate individuals like you to support
those currently serving and advocate for the sea services.