USS Savannah Arrives at Homeport in San Diego
Newly commissioned independence-variant littoral combat ship USS Savannah (LCS-28) arrived at the homeport of Naval Base San Diego on Tuesday, March 3rd. Prior to its arrival, the Savannah officially joined the fleet back on February 5th when it was commissioned in Georgia! Throughout the ship's sail-around, she completed a successful transit through the Panama Canal.
"This crew did an incredible job getting Savannah to its homeport of San Diego," explained Cmdr. Kevin Ray, Savannah's commanding officer. "After being away from home and loved ones for many months, we're thankful for the safe voyage and happy to be reunited with family."
USS Savannah Homeported with Sister Ships
Savannah will be homeported with several sister ships, including the following:
USS Coronado (LCS 4)
USS Jackson (LCS 6)
USS Montgomery (LCS 8)
USS Gabrielle Giffords (LCS 10)
USS Omaha (LCS 12)
USS Manchester (LCS 14)
USS Tulsa (LCS 16)
USS Charleston (LCS 18)
USS Cincinnati (LCS 20)
USS Kansas City (LCS 22)
USS Oakland (LCS 24)
USS Mobile (LCS 26)
14th Independence-Variant LCS
Savannah is the 14th Independence-variant LCS to join the fleet. LCS 28 is the 6th ship to be named after the city of Savannah. It is an Independence-class ship, which is basically a class of littoral combat ships built for the U.S. Navy. This Littoral Combat Ship is known for being fast, agile, and mission-focused, making it great for winning against 21st-century coastal threats. The 1st variant was a coastal galley defending the post of Savannah back in the days between the years 1799 – 1962.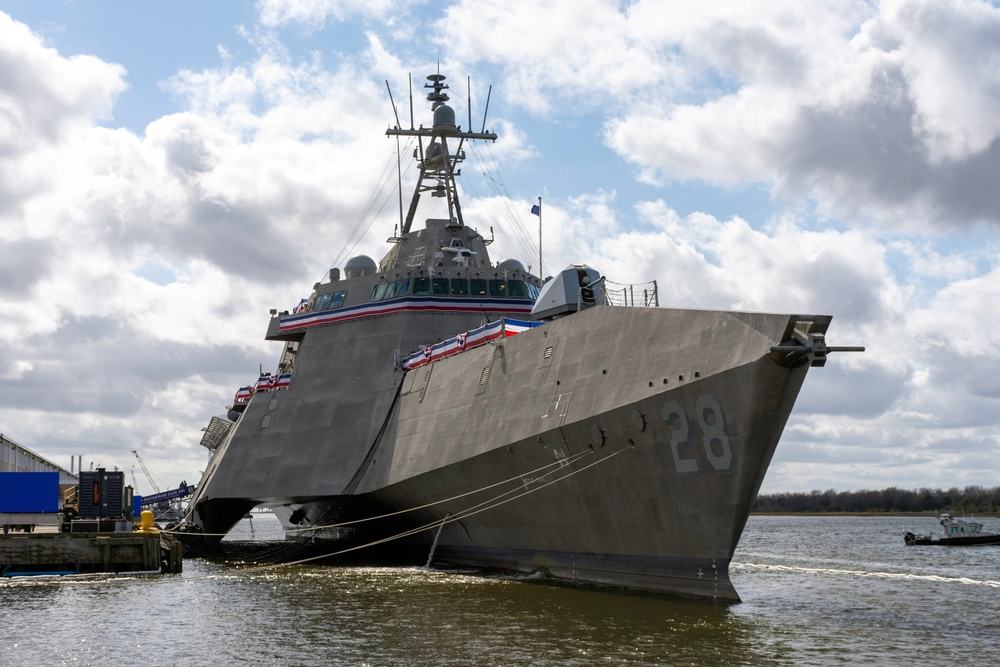 "I am happy to welcome USS Savannah to the San Diego waterfront" described Captain Jack Fay, commodore of Littoral Combat Ship Squadron (LCSRON). "The crew of Savannah worked hard to get to this point and I look forward to seeing them operate in the Fleet."
 3rd and 4th USS Savannah
The 3rd USS Savannah (AS 8) was launched as the German commercial freighter in 2800. It was seized in Seattle, Washington, on the outbreak of World War I and was converted into a submarine tender, which supported squadrons in both the Pacific and the Atlantic Ocean from 1917 – 1926. The 4th USS Savannah was a Brooklyn-class light cruiser that was commissioned in 1938. The warship served the entire Mediterranean campaign, receiving three battle stars for service before it was decommissioned in 1945.
 5th USS Savannah (AOR 4)
The 5th USS Savanna, commissioned in1970, was a Wichita-class replenishment oiler. AO4 earned one battle star along with a Meritorious Unit Commendation for its service in the Vietnam War. The oiler provided underway replenishment services in the Indian and Atlantic oceans until decommissioning in 1995.
Don't miss out on any Navy scoops moving forward! For more Navy League news and updates, click here.
The award-winning Blue & Gold is published monthly. It features hot news, highlights event speakers, covers legislation and much more.
JOIN THE COMMUNITY
The Navy League depends on passionate individuals like you to support
those currently serving and advocate for the sea services.